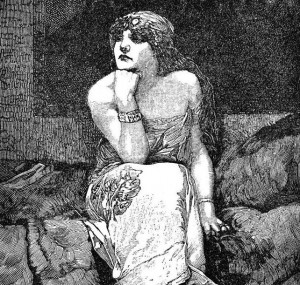 Did Cain marry his sister or did he search-out and find a woman from elsewhere? Here is what the Bible says:

And Cain went out from the presence of the LORD, and dwelt in the land of Nod, on the east of Eden.
And Cain knew his wife; and she conceived, . . . (Genesis 4:16-17 KJV)

So, by these scriptures, it is not obvious whom Cain married and from where his wife came; However, if we look at Genesis 3:20, the Bible makes it plain and simple:

And Adam called his wife's name Eve; because she was the mother of all living. (Gen 3:20 KJV)

Therefore, Eve was the mother of all humanity and there were no human beings past, present, or future apart from Adam and Eve. The scriptures are clear, Eve was the mother of both Cain and Cain's wife, his sister.

This state of affairs poses several questions that must be addressed:

(1) What about birth defects due to the close relationship of Cain and his sister?

(2) What about the Biblical and social morality laws prohibiting close relationship marriages? and,

(3) Is there any scientific evidence that either supports or contradicts the Bible concerning Eve being the mother of us all?

First, let's start with the birth defects issue (question 1). It is a fact that when close relatives marry, their children have an increased probability of having birth defects, disease, and even early death. The theme of the Bible is that in the beginning, everything was "very good" (Genesis 1:31), and due to sin, there has been a deterioration of everything (Genesis 3:17). In the beginning, there were no genetic problems, then, after the original sin, genetic mutations started to appear and have continued to increase. So, when Adam and Eve's children married one another, these mutations were not yet a significant problem. Actually even at the time of Abraham, some 2000 years after the creation, marrying a close relative was not a problem, and sometimes even encouraged by God (Genesis 17:19; Genesis 24:1-60; Genesis 28:10-15). Abraham married his half sister (Genesis 20:12); Isaac married his second cousin (Genesis 24:15); and Jacob married two of his first cousins (Genesis 28:1-7). It wasn't until the time of Moses (about 2500 years after the creation) that God prohibited marrying close relatives (Leviticus 18:8-18). This was necessary to protect humanity from genetic mutations which had reached levels of concern. This notion that genetic mutations are increasing can be substantiated by the decline in lifespan from Adam who lived 930 years (Genesis 5:5), the lifespan of Moses who lived 120 years (Deuteronomy 34:7), and the present day lifespan which is approximately 67 years world-wide. Also, modern science has accepted the fact that genetic mutations are on the increase.

The next issue (question 2) concerns incest and the laws associated with it. Did God force the offspring of Adam and Eve to break the laws concerning incest? No, when Adam and Eve's children married one another, there were no laws, Biblical or social, concerning incest. Also, remember, Adam and Eve were closer than siblings, they were identical twins (Genesis 2:21-23) except that Adam was a male (X and Y chromosome) and Eve was a female (two copies of the X chromosome). So, Adam and Eve's children had no knowledge of or concerns about incest.

And lastly (question 3), concerning the existence of scientific evidence that either supports or contradicts Genesis 3:20, actually, there is much DNA evidence that strongly supports Genesis 3:20. DNA has been collected from humans around the globe over the past couple of decades: tens of thousands of DNA sequences. Geneticists, both secular and creationist, have used these sequences to compile a human genetic tree. This tree clearly shows that we all came from one woman. So, if any other, unrelated group of humans existed during, before or after Eve, there would necessarily be two or more family trees; but, there are not two or more, there is just one.

In conclusion, based on both Genesis and genetics, Cain married his sister.

Here are some other links with some additional background information:

Adam's DNA
Genesis Chapter 1 and 2
Jesus' DNA
The Genetics of Sin Nature
Key words: genetics, DNA, Cain, marriage, sin, mutations, incest, close relationship marriages