Many verses in the Bible are mysteries just waiting to be unraveled. The happenings after the flood harbor one of these grand mysteries: after disembarkation from the Ark, Noah planted a vineyard, and when grapes were produced, he made wine, got drunk, and passed out in his tent; then his son Ham walked in on him (Noah) and something happened that resulted in the birth of Canaan. The name "Canaan" means "humiliated" and is our first clue in solving this mystery. After the happenings in the tent, Noah cursed Canaan: He didn't curse Ham nor did he curse himself, but he cursed Canaan, and at the root of this mystery is the question – why?
For us, at Genesis and Genetics, this event is important because it can help us on our quest to understand the genetic details of human migration. After merging our understanding of the genetics of sin nature and the early chapters of Genesis, we believe we now understand the mystery of Noah's drunkenness, Ham's actions, and Noah's curse on Canaan. The key to unraveling the mystery is recognizing the identity of Noah's wife. First, please allow us to state our theory, and then we will defend it: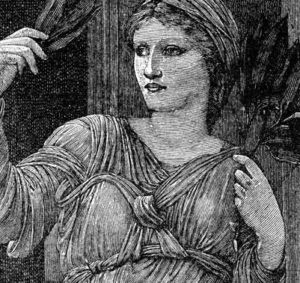 The sons of God saw that the daughters of men were fair and took them as wives (Genesis 6:2), and Noah was one of these "sons of God" and the "daughter of man" that Noah took for a wife was named Naamah from the line of Cain. Then, after the flood, when Noah got drunk, Noah's son, Ham, had sex with his mother, Naamah, who, as a result of this union, bore a son named Canaan. Noah knew how this would affect the balance of good and evil, and cursed the unborn child. After Babel, Noah and his wife split up due to the humiliation; she went with Canaan, and Noah went with Shem and his offspring.
There is much evidence to promote the above notion, and if true, it explains this grand mystery and helps us understand our roots.
First, we need to look at the genealogy of Noah and Naamah. Genesis chapter 4 gives us the genealogy of Cain which ends with a woman named Naamah. Genesis chapter 5 gives us the genealogy of Seth which ends with Noah.
Adam
∧
Cain                   Seth
↓                          ↓
Naamah                Noah
We know that Noah was on the Ark, so, it only makes sense that Naamah was also on the Ark as Noah's wife. If Naamah were not on the Ark, there would be no reason to document her family line since they would have perished in the flood. The Bible does not waste words and every verse is significant. In this case, Cain's lineage is very significant in that he, Cain, contributed to our genetics significantly, on the order of half. Also, it should be noted that Adam and Eve had other sons and daughters (Genesis 5:4), the genealogy of which were not documented: there was no need – they and their offspring perished in the flood.
We, at Genesis and Genetics, are convinced that Naamah was, indeed, Noah's wife. Here is our reasoning:
(a)  She is the last one mentioned in the line of Cain before the flood.
(b)  Generally, in Biblical lineages, only the men are listed. In the case of Naamah, not only is she listed but also, her father and mother are included. This implies that she is a very important person in our family tree.
(c)  Some Jewish traditions cite Naamah as Noah's wife  (Reference)
(d)  There was a town in Canaan conquered by Joshua named Naamah. Biblical towns are generally named after the men, but this one was named after a woman: Naamah.
Noah planted a vineyard and got drunk. Then, Ham, Noah's son, committed some act that resulted in a curse placed on Canaan. These happening have been heavily debated by theologians: some say Ham saw that Noah was naked; some say Ham committed a homosexual act with Noah; and some say it is and will remain an unsolved mystery; but there is another possibility that we have accepted. We have concluded that Ham went into the tent and had sex with his mother; this union produced Canaan. When Noah woke up, he cursed Canaan, Ham's unborn son. Noah didn't curse himself, nor did he curse Ham, but he cursed Canaan and gave him the name which means "humiliated." This is the only scenario that makes sense and here are our reasons for promoting this view:
(a)  The term saw the "nakedness of his father" (Genesis 9:22) is the same term as used in the Levitical law when dealing with incest (e.g. Leviticus 20:11 "And the man that lieth with his father's wife hath uncovered his father's nakedness:" – KJV). This clearly means having sexual relations.
(b)  Noah knew that the result of this union would upset the balance of good and evil (1 John 3:12, Genesis 4:25).
The Biblical history of Noah ends when Noah curses Canaan (Genesis 9 25-29). However, we know that Noah lived 350 years after disembarkation from the Ark (Genesis 9:29). We are not sure how long Naamah lived after leaving the Ark, but assume she lived through the time of the scattering at Babel. Even though the scriptures don't directly account for Noah's and Naamah's whereabouts, we can speculate that Noah was sufficiently humiliated so his relationship with Naamah cooled, possibly to the point of being estranged. Naamah, perhaps, was protective of her son Canaan and went with him after the Babel scattering and dwelt in the land of Canaan. Noah, on the other hand, perhaps, dwelt with his son Shem or someone in the Shem line. The supporting evidence for this is the account of Abraham and Job both of whom came from the line of Shem and had very deep spiritual understanding; this would be indicative of a close and extended connection with Noah.
So, how about those of us who have Canaanite genes? Unfortunately, we all have Canaanite genes. Since Canaan was born so early in the post-flood history, his DNA is thoroughly mixed into all of us. We all need redemption.
We are sure this blog will inspire diverse opinions and comments, and we welcome them.
Additional reading:
The Sons of God and the Daughters of Man
Unraveling Babel – Date and Population